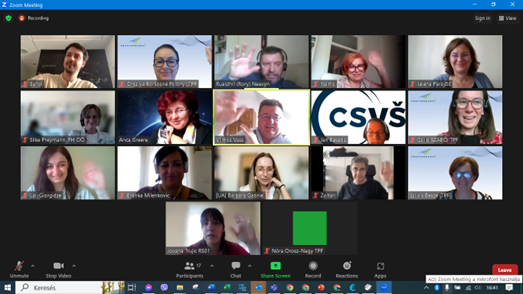 2023-06-15 11:11:28
Effective and productive peer-review and great discussions
The PROFFORMANCE Assessment tool will be further developed and complemented with statements measuring higher education teachers' competencies in digitalization, internationalization, inclusion, and sustainability, related to learning and teaching.
---
PROFFORMANCE experts came together online to review the first versions of the new statements developed in the 4 EHEA priority areas on 13th June. The event has been divided into four identical units focusing on one topic each. All sessions have been built on the same methodology: 4 expert working group leads presented their elaborated new statements for the assessment tool, and a reviewer gave feedback and/or justified their relevance. Afterwards, all PROFFORMANCE experts worked together on an online platform discussing each and every statement and overall aspects to be considered.
Finally representative of the European Student Union and the Main lead have also added their important views to the results.
The discussions have been very effective and productive, a real peer-learning activity has been realized, where different views could be presented which means a great added value to the finalization of the PROFFORMANCE Assessment tool statements.
Experts will work on harmonization and make the tool as useful and user-friendly as possible, while the educative role of the tool is also important. PROFFORMANCE project and its toolkit aim to provide a navigator among EHEA/EU policy areas, national regulations and strategies, institutional frameworks, students' needs, and stakeholders' requirements.
You may try the PROFFORMANCE Assessment Tool which provides a complex overview of teachers' competencies, search for good practices in the Teacher Excellence Database and find free online available open courses for HE teachers from the newly developed course portal.