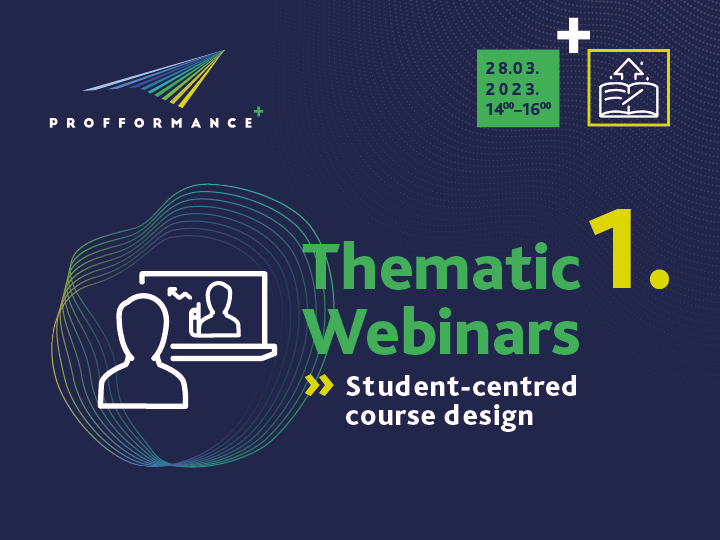 2023-04-18 15:32:48
REPORT ON PROFFOMANCE+ WEBINAR ON STUDENT CENTRED COURSE DESIGN
Hundreds of higher education teachers have been interested in the first PROFFORMANCE+ thematic webinar on Student-centred course design held on 28th March 2023. Participants could get acquainted with four international good practices on how to engage students and how to adjust courses to their needs to most effectively achieve learning outcomes.
---
Speakers have been selected from the PROFFORMANCE teaching excellence database which contains another 120 international good practices. After the overview presentation pitches, participants could get a recipe from them, on how to adapt the presented methodology in other areas.
The PROFFORMANCE Assessment tool has been also presented. Participants could participate in a joint survey on the thematic area 1 of the tool focusing on student-centred course design, and upon their common results they could get to know, how the tool can be used at the individual or at the institutional level.
The thematic webinar series will be continued. The next session is planned to be held on 17th May, focusing on the Assessment of Students' learning.
Hope you may join. We are looking forward to meeting you again.
---
You can read more about the PROFFORMANCE Webinar series at PROFFORMANCE+ Thematic Webinar series starts in March | Profformance
Follow us at LinkedIn: https://www.linkedin.com/showcase/profformance/
Sign up for our newsletter to always be updated on PROFFORMANCE events, and products.